While there is plenty of uncertainty surrounding the 2020 college football season, that has not stopped oddsmakers from setting the table with the favorites to claim the national championship.
The folks at BetOnline have laid their early odds for the 2020 season. Here's a look at the teams with the 25 best odds, in order from worst to best — as of July 6.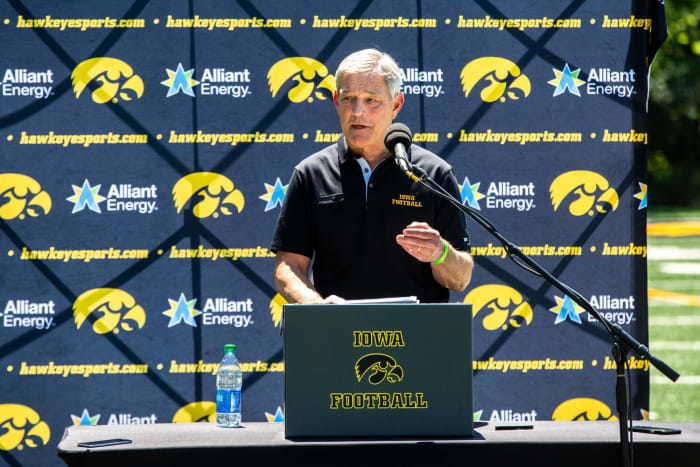 The coronavirus pandemic has made things tough on every college football program. However, the rise in racial and social injustice movements that followed in the wake of George Floyd's death has hit Kirk Ferentz's Iowa program, which has come under fire for the treatment of black players. It's uncertain what any of this will mean for the Hawkeyes' on-field performance, but it's something to keep an eye on.

Iowa State (+2,000)
The Cyclones' 7-6 mark in 2019 was an underachievement in the eyes of most fans. Whatever the 2020 season looks like, Iowa State is poised to be better. That should start with junior quarterback Brock Purdy (6,232 career passing yards, 43 passing touchdowns), who some believe could end up being the best signal-caller in school history. Of course, a Cyclone defense that allowed an average of 26 points last season must improve.
Nebraska (+2,000)
Another year with another round of expectations for the improvement of Scott Frost's Cornhuskers. One has to go back to 2016 for the last time Nebraska had a winning record or made a bowl. Last season, the Cornhuskers were picked to win the Big Ten West division and they won three games within the league. How about we wait to see for ourselves?
The Gophers, too, are dealing with a Covid-19 outbreak within in their own ranks. Still, there should be plenty of excitement for game day in the Twin Cities following last season's 11-2 run. Tanner Morgan (3,253 passing yards, 30 passing TDs in 2019) might end up being one of the top quarterbacks in the Big Ten. P.J. Fleck's Gophers should at the very least be a bowl team this season, but another 11 wins might be a stretch.
Miami has totaled 13 victories in two seasons following its 10-3 run in 2017. With Houston transfer D'Eriq King (4,925 career passing yards, 1,421 rushing yards, 78 total TDs), the Hurricanes believe a 10-win campaign is in the cards. Perhaps, but King will need help from a supporting cast that needs to prove its consistency unlike in years past.
Tennessee returned to a bowl for the first time in three seasons while going 8-5 in 2019. It was actually an impressive finish with six straight wins from a season that opened with a home loss to Georgia State. That strong finish potentially bodes well for the Volunteers in 2020, especially since some key pieces return from a defense that yielded an average 15.5 points over those final six contests.
After coach Mike Gundy drew the ire  of star Chuba Hubbard (2,094 rushing yards in 2019) and others on his roster for sporting a shirt of a far-right-wing new network, it will be interesting to see how things play out in Stillwater this season, especially since the Cowboys appear to have the makings of a squad that can seriously contend for a Big 12. That said, are they good enough to end that five-game skid vs. Oklahoma?
Former Memphis coach Mike Norvell embarks upon his first season guiding the Seminoles. It's a huge task and one that's likely to make or break his career. Though Florida State returned to a bowl in 2019, it's finished the last two seasons with a losing record. The good news for Norvell and the Seminoles is that Tamorrion Terry (60 receptions, 1,188 yards in 2019) is among the best receivers in the country.
Another program that's received backlash from a coach's alleged racial insensitivity (in this case defensive coordinator Morgan Scalley ). On the field, the Utes must move on without quarterback Tyler Huntley, running back Zack Moss, defensive end Bradlee Anae and defensive tackle Leki Fotu. That seems a lot of talent to overcome, but playing inside the Pac-12, Utah should still be in the hunt for a league title again.
Life after Jonathan Taylor begins at Wisconsin. The Badgers won the Big Ten West Division title in 2019 and earned a date in the Rose Bowl. There is some work to be done on the offensive side of the ball this coming season, but a Badgers defense that recorded four shutouts over the first six games of 2019 should be the strength of the squad. Linebacker Jack Sanborn (80 total tackles, 5.5 sacks in 2019) is expected to be the leader of that group.
Last year marked the first time in four seasons that Washington failed to win at least 10 games. Now the Huskies move forward without longtime coach Chris Petersen. However, Washington likely won't skip a beat with former defensive coordinator Jimmy Lake \in charge of the team. While there might be some questions on offense, the Huskies should again be among the nation's top defensive units.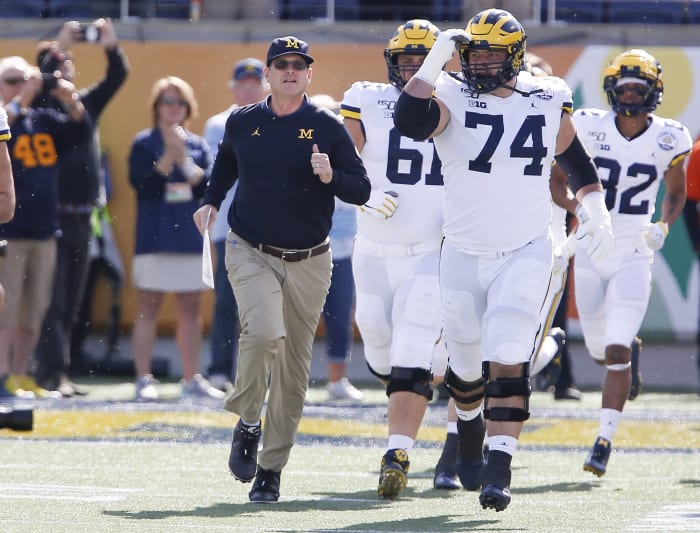 Jim Harbaugh still has a coaching job at Michigan, even if he can't beat Ohio State. He's also lost four straight bowl games and has yet to play in the Big Ten championship game. The Wolverines are obviously a bowl team again, and senior defensive end Kwity Paye (9.5 career sacks) is a special player. Offensively, the Wolverines could be challenged. Stay tuned.
Penn State won its first eight games of 2019, but losses at Minnesota and Ohio State kept the Nittany Lions from greater things. From coach James Franklin to athletic director Sandy Barbour, Penn State is hell-bent on playing football this season amid the Covid-19 uncertainty. Maybe that's because quarterback Sean Clifford (23 TD passes in 2019), running backs Journey Brown and Noah Cain (combined 1,333 rushing yards) and star linebacker Micah Parsons are poised to lead the Nittany Lions to big things in 2020.
Coach Gus Malzahn still has a job. But how much rope does he really have on the Plains? Bo Nix (2,542 passing yards, 16 TDs, six interceptions) has a season at quarterback under his belt, so the potential to take a big step in progress is there. The Tigers will need to replace some talent on defense but should again flirt with winning 10 games. Still, will that be enough to save Malzahn's job.
Oddsmakers think the Ducks will be the class of the Pac-12, even with Justin Herbert no longer under center. Why? Because there is enough talent on both sides of the ball to believe that's very much possible. Offensively, CJ Verdell has rushed for 2,238 yards in two seasons, and tackle Penei Sewell might be the best offensive lineman in the nation. Meanwhile, defensive end Kayvon Thibodeaux returns from recording nine sacks as a freshman.
Texas A&M was a sexy breakout pick last season because of coach Jimbo Fisher. Instead, the Aggies went 8-5 and were .500 in the SEC. Oddsmakers like them to do well in 2020, but it does not appear Fisher's squad is ready to contend for a national championship. It's also the swan song for quarterback Kellen Mond (7,379 career passing yards, 52 TD passes), who some believe has underachieved during his time in College Station.
A total of 16 starters return from a Texas squad that went 8-5 and beat Utah in the Alamo Bowl last year. The Longhorns' success this season likely begins and ends with quarterback Sam Ehlinger, who is finally a senior. He's thrown for 8,870 career yards with 68 TDs and has scored 25 times on the ground. Of course, it's the Texas defense that will again be under the microscope after giving up 27.4 points per game last season.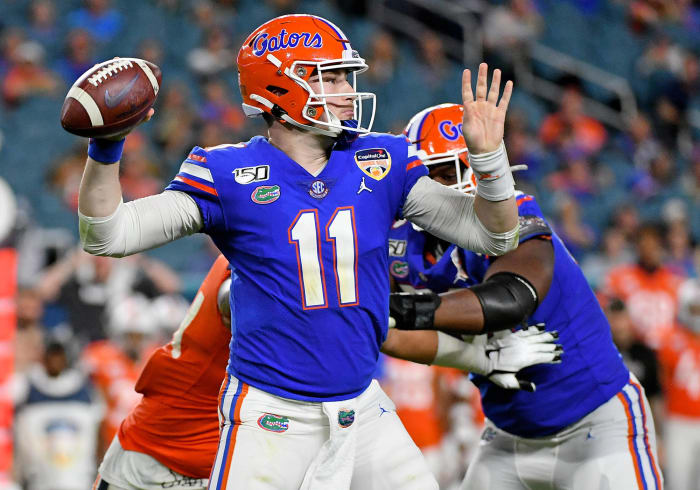 Coach Dan Mullen is doing good work at Florida. The Gators might not be a true national title contender, but they are 21-5 in two seasons under Mullen. They also won both bowl games played. As has been the case in recent years, the focus should be on Florida's quarterback play. Kyle Trask threw for almost 3,000 yards with 25 touchdowns last season, so his experience and confidence could be key in 2020.
Oddsmakers love the Irish, who remain one of the most popular betting programs in the world. Notre Dame is 33-6 over the last three seasons, and that includes a trip to the College Football Playoff during the 2018 campaign. Quarterback Ian Book threw for more than 3,000 yards with 34 touchdowns and ran for 546 yards last season, so Notre Dame has a true leader at an important position.
The reigning national champions should still be in the conversation with the rest of college football's elite. Replacing Heisman Trophy-winning quarterback Joe Burrow is the No. 1 priority. However, Ja'Marr Chase (84 receptions, 1,780 yards, 20 TDs in 2019) is the best receiver in college football, while Derek Stingley Jr. might be the top defensive back in the nation.
No more Jake Fromm throwing the ball, but the Kirby Smart's Bulldogs are not void of talent. While the oddsmakers seem to think Georgia will again be in the mix for a College Football Playoff berth, the reality is that it may still be on the outside looking in at such an accomplishment. With a new offense in place, it might take some time for the Bulldogs to get going.
Is Spencer Rattler the next great Oklahoma quarterback? Last season's backup, Tanner Mordecai, apparently will have something to say about that for now. However, the key issue for the Sooners is likely to be how well they defend. Things improved enough in 2019 for them to again reach the College Football Playoff. Overall, there might be more questions about doing so again this season.
While Covid-19 cases have hit the Alabama program , the Crimson Tide push forward expecting again to challenge for a national championship. Life without Tua Tagovailoa begins, but Alabama is still likely to be near the top of the heap when it comes to national championship contention. Linebacker Dylan Moses and cornerback Patrick Surtain II are among the top defenders in the country.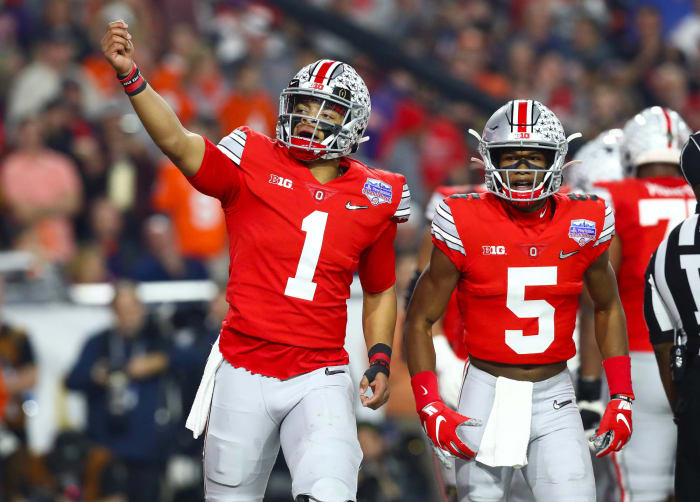 Following back-to-back 13-1 seasons, is Ohio State ready to take the next step and win a national title? Having Justin Fields (41 TD passes, three INTs, 10 rushing TDs in 2019) under center and the likes of defensive end Zach Harrison and defensive back Shaun Wade back should position the Buckeyes as the class of the Big Ten. Now, do they have the chops to hang with the elite of college football? We'll see.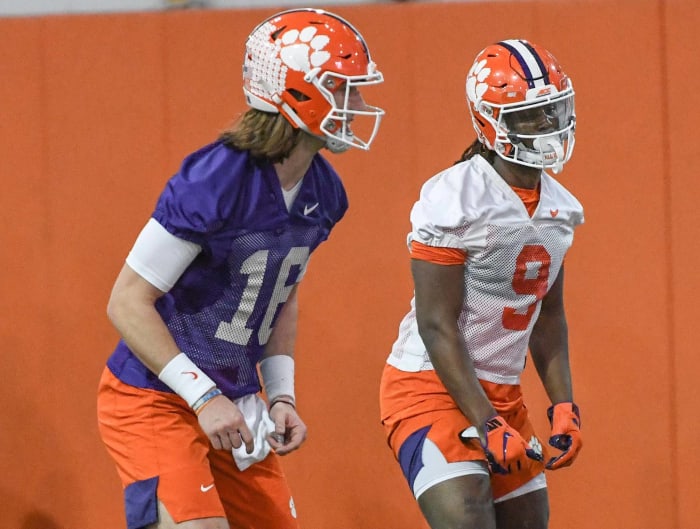 The immediate focus around the Tigers is the rash of Covid-19 positive cases . When, or if, the season kicks off and all are healthy, Clemson is the team to beat in many eyes — especially the oddsmakers. And why not? Trevor Lawrence (6,945 career passing yards in two seasons, 66 TD passes, 12 INTs), Travis Etienne (4,038 career rushing yards in three seasons, 56 TDs) and a defense that's likely to reload and not rebuild put the Tigers at the top of the college football hill.
Bet with a Top Trusted Sportsbook that Pays BetOnline